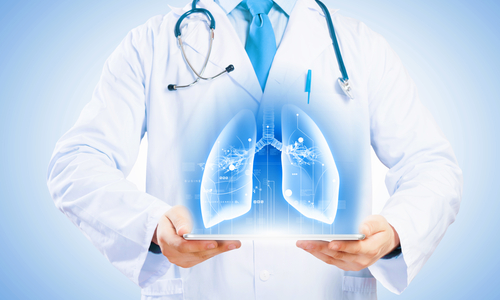 Biotechnology company Cureveda LLC  just announced that it has received two National Institutes of Health (NIH) Phase I Small Business Technology Transfer (STTR) grants worth $450,000 in total. Cureveda specializes in treatments for inflammatory and fibrotic diseases, and the new funding will be used for VEDA-1209 preclinical testing as a breakthrough therapeutic for systemic sclerosis and chronic obstructive pulmonary disease (COPD).
"Systemic sclerosis and COPD are devastating diseases where there is a critical need for more effective treatments," said Graham Allaway, PhD, Cureveda's CEO. These two STTR projects will help us advance VEDA-1209 as a powerful new therapeutic approach for these conditions."
Systemic sclerosis (SSc), an autoimmune disease of the connective tissue, causes an overproduction of collagen which leads to fibrosis of the skin, connective tissue, and internal organs such as the lungs, greatly reducing functionality. SSc is estimated to affect about 100,000 Americans, half of which are diagnosed with an aggressive form of the disease, and die of organ failure within 5 years.
The STTR grant from the National Institute of Arthritis, Musculoskeletal and Skin Diseases will support the collaborative research efforts between Cureveda and Drs. John Varga and Jun Wei of Northwestern University as they evaluate VEDA-1209's efficacy on SSc patients' and animals' cells.
[adrotate group="8″]
The COPD STTR grant from the National Heart, Lung and Blood Institute will fund a joint research project among scientists and physicians at Johns Hopkins University. They will test the drug's efficacy in COPD patients' and animals' cells. Roughly 13 million Americans are living with chronic obstructive pulmonary disease (COPD), which is the country's third leading cause of death.
Today's treatment options for SSc and COPD are limited and mostly work to provide relief of symptoms, instead of addressing the disease itself. VEDA-1209 is formulated to specifically target Nrf2, the chief regulator of cellular anti-oxidant pathways, which effectively inhibits fibrotic and inflammatory events that cause SSc and COPD worsening.
In other news on COPD, a review titled, "Determinants and outcomes of physical activity in patients with COPD: a systematic review" presents past data on the importance of physical activity in determining COPD patient outcomes. COPD can greatly reduce one's tolerance for physical activity, leading to a sedentary lifestyle that can be detrimental to both physical and psychological health.