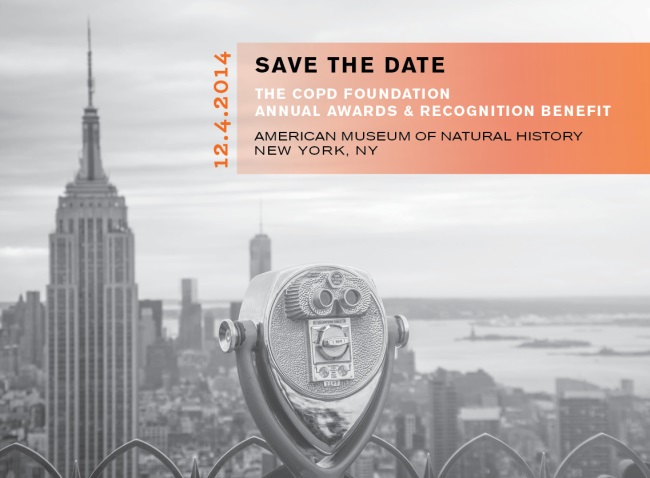 The COPD Foundation will be hosting the 2014 Annual Awards and Recognition Benefit next month, Thursday, December 4, 2014 at the Powerhouse, American Museum of Natural History, Columbus Avenue at 79th Street in New York. Invited to provide the evening's entertainment is Brenda Lee, the singer behind popular hits "I'm Sorry" and "Rockin' Around the Christmas Tree." The foundation will be donating all of the evening's proceeds to COPD patient support and treatment research and development.
COPD or chronic obstructive pulmonary disease is ranked as the third leading cause of death in the United States, costing the nation as much as $49.9 billion in health dollars. It has no known cure, and causes debilitating effects on patients' ability to work, do household chores, normal physical exertion, social activities, and even disrupts sleep.
The benefit will be honoring individuals as well as organizations who have contributed significant contributions to PH research and development, education, and advocacy. The 2014 honorees and their awards are:
Phil Everly Champion for COPD Award: Patti Everly
COPD Advocate Award: The Silver Palate/Grain Berry
COPD Treatment Award: The Centers for Disease Control and Prevention
[adrotate group="3″]
Singer Brenda Lee achieved being the voice behind 47 chart-topping hits back in the 1960s. In that decade, she ranked 4th after Elvis Presley, The Beatles, and Ray Charles. After releasing her hit pop song "Dynamite" in 1957, she was given the nickname "Little Miss Dynamite", and was known as one of the first pop artists to gain a sizeable contemporary international following.
"I am deeply honored that Ms. Lee will be performing at our event. She has been very supportive of the COPD Foundation and raising awareness of a disease that takes one life every four minutes," said John W. Walsh, the President and co-founder of the COPD Foundation.
To learn more about this year's Annual Awards and Recognition Benefit and how you can help support the foundation, you may send an e-mail to: [email protected].
The COPD Foundation celebrates its 10th Anniversary this year. It has been a decade of successful commitment to improving the lives of the hundreds of thousands of COPD patients nationwide. The C.O.P.D. Information Line, 866-316-COPD (2673), is a toll-free number for information and referrals on this disease, and offers callers access to peer-to-peer patients and caregiver associates.
We are sorry that this post was not useful for you!
Let us improve this post!
Tell us how we can improve this post?